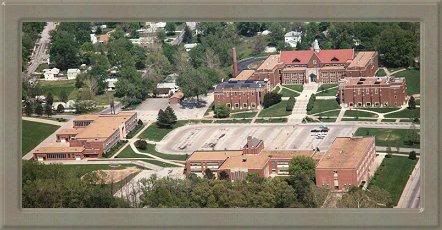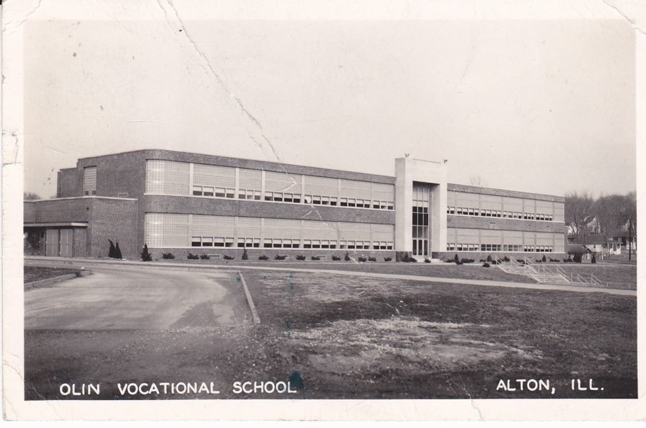 From Madison County ILGenWeb on Facebook:
ALTON HIGH SCHOOL
College Avenue, Upper Alton
The Alton High School on College Avenue in Upper Alton was completed in 1928, at a cost of $800,000. Previously, high school students in Alton attended the Roosevelt High School at 6th and Mechanic Streets, and Upper Alton had its own high school at Edwards and Seminary Streets. The dedication of the new high school was held in the auditorium on October 2, 1928, with Francis G. Blair of Springfield, State Superintendent of Public Instruction, as the speaker. The Alton Municipal Band and the Alton High School Band played at the dedication. The Main building contained 144 rooms, a gymnasium, and auditorium. All vocational departments were housed in the northern portion of the building, science labs were on the third floor, band and art rooms were on the fourth floor.
In 1942, the Annex building was completed, and was first used as the East Jr. High School. Ground was broken in 1954 for a new East Jr. High School on Washington Avenue in Upper Alton, and the Annex became part of the Alton High School. In 1965, an addition was erected onto the south end of the Annex, which included new classrooms and a cafeteria.
In 1951, the F. W. Olin Vocational Building was constructed at the north end of the campus.
Today, the old Alton High School houses the Alton Middle School students. A new high school was constructed on Humbert Road in Alton, at the J. B. Johnson Center, with groundbreaking occurring in November 2003.