Sports Photos & Clips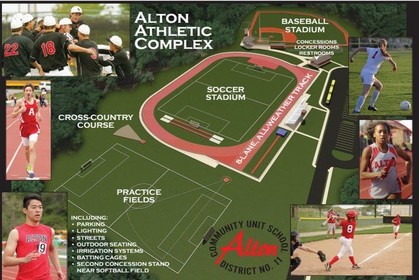 New sports fields 2016.
Piasa Motor Fuels Field is the name of Alton High's new soccer field. Wonder if our classmate Bill Schrimpf had something to do with this? It's his family business and he is retired President & CEO.
October Alton Tel. article:.........GODFREY — It's been some 42 years coming, but Alton High finally has a soccer field to call its own – and the Redbirds will play on it for the first time Tuesday evening.
"This is a great step for athletics at Alton," AHS athletic director JeffAlderman said. "It's going to be a great asset and it will help our coaches and our athletes by being on campus."
Alton High's boys and girls soccer teams have always played off campus, mainly at Gordon Moore Park. But no more. The Redbirds will be able to entertain guests at their own field.
The new soccer facility, which sits atop a hill behind Alton High, has been dubbed "Piasa Motor Fuels Field."
Naming rights? Indeed.
"(Piasa Motor Fuels) made a generous donation to the project and it will benefit the entire athletic complex," Alderman said. "And the soccer playing field is just part of what is up there."
In addition to the soccer field, a track, varsity baseball field, two practice fields and, eventually, a cross country course will be included.
Work began on the facility in early 2013. Workers recently installed bleachers to seat 800 fans and erected a scoreboard adjacent to the field.......