Alton High School
Class Of 1965

Class Lunch Oct. 2016
Thanks to Dianne for organizing the class lunches.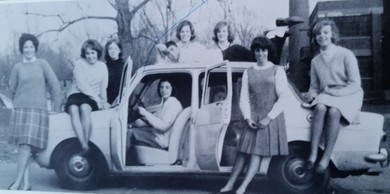 Oct. 2016
Hello Class '65 Friends,
It was nice seeing many of you at yesterday's lunch...our last for 2016. This was our smallest turnout thus far, but the room was full of good spirit and comraderie. Welcome to Sharon Phillips Schreiber who just moved back to Alton and came to lunch. We discussed what we would like for next year. After confirming 2017 reservation dates (see below), I obtained agreement from Mac's for the addition of a small dinner salad $3.99 to our special menu.

Marion Foster Dimond, Linda Hicks Montayne & Herb McCartney were recognized for all they do to keep our website updated and keeping us connected. Marion is seeking people's input for doing something in recognition for everyone turning 70 over the next year. This website is great to connect to our friends for whatever reason and to be updated on the latest events about Alton and upcoming class events.

Dick Alford spoke of buying a brick engraved with the names of our classmates lost in the Vietnam War. The brick will be installed at the VFW on North Alby St. and will be paid with funds from our 50th reunion. He also told us he gave the ROTC unit (that gave the missing soldier ceremony at our reunion) a flag from our AHS Class of 65.

With several people's input for making an annual donation to the ROTC unit, Barb Maple Norman has volunteered to bring a donation bucket at each lunch and on the last one, these donations (cash or checks) will be given to ROTC via Dick Alford in honor and remembrance of our classmates who have served in the military.

Sorry for those we missed seeing yesterday and look forward to seeing you next year!
Best regards,
Dianne Stobbs Wingerter

2016 Class Lunch Stats:
Feb 18th: Total attendees: 26
May 19th: Total attendees: 37 Men 17 Women 20
July 21: Total attendees: 27 Men 8 Women 16
Oct 20th: Total attendees: 19 Men 5 Women 14

2017 Class Lunches (the 3rd Thursday of these months at 11:30am) :
Feb 16
May 18
Aug 17
Oct 19

Oct 20 Lunch pics